I've always been against buying FIFA coins. I've spent a lot of money on fifa points and it never bothered me. I have no problem giving EA my money, I've been enjoying there games since the first madden on PC and have bought every FIFA
Too much FIFA money chasing too few goods
I've always been against buying FIFA coins. I've spent a lot of money on fifa points and it never bothered me. I have no problem giving EA my money, I've been enjoying there games since the first madden on PC and have bought every FIFA, madden and NBA live they've ever put out. But lately the values of many players is getting a bit ridiculous and you can see countless players for sale that are clearly put up there for coin dealers to purchase. I'm not the type to rat on people but it's obvious what's going on when you see players with 2+ days left and going for millions when they aren't worth a few thousand.
So this brings me to the point of the post. What's the point of not buying them at least once? EA claims the first time is a warning, though I've seen people claim otherwise but I don't know if they're being honest. And with the cost of some players it's clear there's too much money chasing too few goods.(aka demand-pull inflation, the definition isn't exactly that but pretty close) I have a feeling a lot of people bought coins during TOTY.(which some moron accused me of doing until I showed him my purchases at the MS website.) Another thing that seems to be the case is that EA wasn't really serious about punishing the multiple time coin buyers. I don't think they can. At this point there's probably too many.
I hate to even say this but with the issue seemingly being so rampant I struggle with not doing it. I have a great squad, I'm in the top 8 on the team value list and as I see more and more players being sold to coin dealers I keep thinking what's the point of spending even more $ on FIFA points when so many aren't even bothering and just using Mom's credit card to buy coins from dealers. The money for me isn't the issue but why spend more if others don't care about what they're doing to the market.
Most likely I won't cause I don't want to risk losing this squad but I'd be lying if I said it hasn't crossed my mind. What are your thoughts? Am I mistaken about those players I see with almost 3 days left going for millions on a player worth a few thousand? I'd like to hear others thoughts or just be a * bag and criticize what I'm saying. I enjoy both.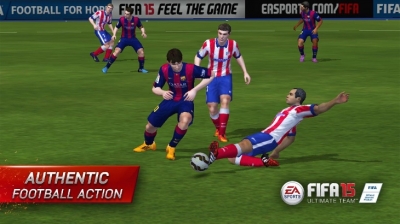 11
Mar
The trouble with FUT is not just EA but its the players
However, I've been playing this game since he started. This is a trading card game and its totally biased and unfair in many ways. Ive been playing since its birth and the best card I ever got was a Messi and that was my first ever squad which I inherited on UT