I got bored of playing with the same gold teams, so i thought I'd make the game fun for myself. So I made the following team for the Bundesliga tourney
Think I'm done with Fifa 15
No, not because I think the game's bad.Yes, it could do with some improvements, but not as much as the community, which needs a massive cull of idiots.
So to the reason:
I got bored of playing with the same gold teams, so i thought I'd make the game fun for myself. So I made the following team for the Bundesliga tourney: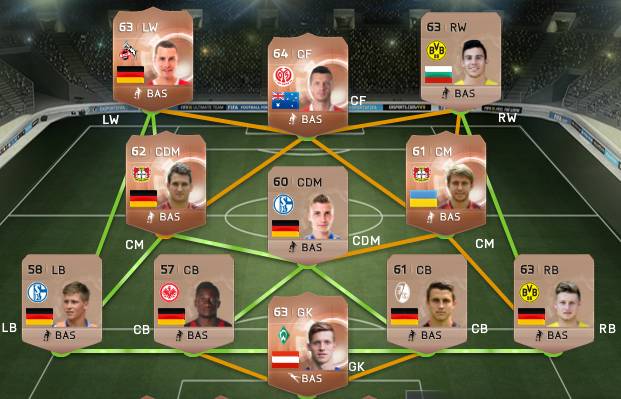 I knew I wouldn't win many games, just thought it be fun playing people with better teams and trying to win and that proved to be the case for a little while. Anyway, game before last I play a guy, match ends up being 3-2 to him, last minute goal for the winner, he celebrates like a maniac and watches all three replays of all three of his goals. So I think "fine, it's a little classless, but i can deal with it".
Onto the next game, 35 minutes gone, I've had one hit the post, his keepers saved three decent chances. He hoofs the ball forward to Ramos, I cover with my defender, who then inexplicable slips and puts it out for a corner. From the resulting corner his player heads it straight through my goalkeeper and scores, he then proceeds to celebrate wildly and watch all three replays (fine I can deal with that) anyway next time he gets the ball, he passes it around the back! My players (barr one) aren't quick enough to catch up, he does this for the remaining 10 minutes of the half. So at half time I think "okay I'll have to put it on attacking and high pressure" so I come out for the 2nd half and chase the ball around he continues to pass it around every time he gets possession. Because I'm playing with bronze players by about 80 minutes they're all completely screwed and he punts it forward to score a 2nd, cue wild celebration and three replays.
After the match he sends me this message:
"Thanks for the easy win s*** kid, you're no match for me kid."
Now I know he's only trolling but it just shows you what a bunch of idiots a lot of this community are, there is so little fun to be had online.
tl:dr version: 90% FIFA players sad little idiots.