However, I've been playing this game since he started. This is a trading card game and its totally biased and unfair in many ways. Ive been playing since its birth and the best card I ever got was a Messi and that was my first ever squad which I inherited on UT
The trouble with FUT is not just EA but its the players
Alot of flak EA gets and rightly so with the money it makes.
However, I've been playing this game since he started. This is a trading card game and its totally biased and unfair in many ways. Ive been playing since its birth and the best card I ever got was a Messi and that was my first ever squad which I inherited on UT. After that, for the following five years Ive had the worse luck in the world in terms of packs. Unless of course so many people are buying fifa coins to buy lots of packs and thats how I see these constant pulls of Messi, Ronaldo etc.....
Lets get one thing straight. UT is the most unbalanced game there can be as an online experience. You can have squads that differ so much in quality its unrealistic. However, people try to play the game in many different ways so that they can play it for many months.
I find it strange how people can get there knickers in a twist about this game. It a game which really doesnt at all tell someone if they are better than someone else. You could have a cheap gold team with the odd 3 or 4 star players and face a 5 star gold team with ronaldo messi etc..... yet the latter player beats you and plays it in a way he actually believe he is better than you as you hear him lording it over you on the mic, lol!!
When did gamers stop enjoying playing games and become win at all cost knobs? Pause the game, make it lag.... use in game cheats such as fifa 14 kick off lob move..... and yet here we are 100% blaming ea when to be honest there is a sizeable minority it seems that has to win at all costs in a game where really winning doesnt mean that much.
If you want to really be the best you play professional tournements. Otherwise you are just a average joe gamer like us all. And this is what disappoints me the most. The average joe gamer seems to have forgotton about the fun of games. Like UT for example there are 100 of 100 of players and yet all you see if the same team again and again. Why? Cos people are worried about a pointless win record when really it doesnt better. You can post them all you like but can manipulate records in so many ways. I often read about players who say they battered another opponent. Its show they lost 1-0 but had 12 shots to his 3. Yet I've played guys this year who do nothing but shot from just inside the half way line with decent long range shooting players. Does that mean that im worse because they are 10 more long shots that they pinged from the half way line to say my 3 clear cut chances I had earlier.
UT I am sure was created to bring back the fun of trading cards in a computer game. It was never going to be perfect. I mean how do you stop Ronaldo in this game with Mertersaker? Yet because people ego of wanting to be the best at all costs has got in the way it has spoilt the game in many ways because the expolit every loop hole possible just so they get one more win in a win column on a game that really doesnt matter because of the unfair advantage one player will have over another in each and every game that is played.
EA might fix the bug issues with this game. They might not. Yet they cant do anything about the players wanting to exploit at all costs ways to win a computer game because their ego wont allow them to play it in a manner that means they might end up losing. People complain how many times they face Ronaldo Messi Bale, Robben ..all the people with pace and yet what do people do in reply .... they make similar sides ...its like a never ending circle.
When I turn on my ps4 I play the game and win, and lose. Yet I dont think how many times better I am than the person I last played if I win and how great of a person I must be to do that. Yet I sense within the fifa community its an attituide that is starting to grow rife because people buy coins, uses cheats, lag the game etc.... in order to win at all costs.
If i was playing professional gamers I would really understand. The fact is I am not and I'm just playing some person who shouts abuse at me if I beat them or wants to try and wind me up if I lose. Banter is one thing but how many people after playing what was actually a good game messages someone and says GG and not Loooooser.
Maybe its just society changing in a way I dont understand. Yet this is why when I see people moaning about UT I dont think all the blame for UT failing this year can be put at the door of EA.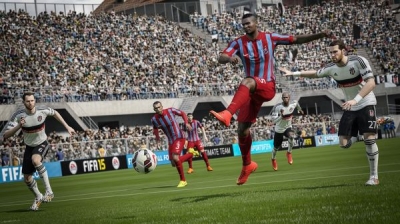 28
Jan
Too much FIFA money chasing too few goods
I've always been against buying FIFA coins. I've spent a lot of money on fifa points and it never bothered me. I have no problem giving EA my money, I've been enjoying there games since the first madden on PC and have bought every FIFA