The second CM is what makes this squad work. It will be an attacking-based player with defensive work-rates
The FIFA Guide To Attacking Domination
Gotten quite a few messages about this formation over the past few days so decided I'd write a short guide on how I use it, it wont be the most prettiest of guides as it is pretty rushed. This style of play isn't for everyone and isn't the easiest to take control with either, if it doesn't work I would suggest staying with 433(4) and trying one of the other guides on here.
Kazdane's Guide -http://forum.ea.com/uk/posts/list/2955579.page
reidabalda's Guide -http://forums.ea.com/uk/posts/list/2951408.page
Introduction
433(4) is without a doubt my formation this year. I used it earlier in the year and it didn't work at all but more recently I decided to try it again and it was almost unstoppable.
Going to start by saying you're going to struggle quite a bit if you're not a strong defender. You'll have to be able to read your AI controlled defenders along with your opponents players simultaneously and even one of the smallest mistakes can cause a goal and almost all of the defending situations will be created by counter attacks meaning your defense will be all in line with no other play closer than 20-30 yards to your back line, it'll be your defending that wins the games.
The Striker
There are two main type of players you can use here. The nimble, fast dribblers who can score when asked of, or the more clinical strikers who can also hold the play and set the tempo of the attack. Both of these work fine but the the one thing needed from both would be the ability to actually pass, this eliminates players like Gomez, Mandzukic and Emenike.
Ideal strikers for this position are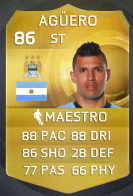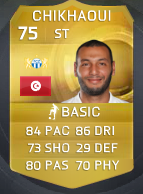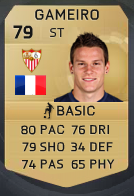 The Wingers
These may be the most under-appreciated players in the team, you might feel they don't contribute enough goals and assists to be viable to the team but it's really the opposite. These wide players will make it easy to spread the play and leave much more room in the middle for the striker and the midfield players. What's essential of these players though is their pace, dribbling and passing along with skills. The shooting isn't a necessity but if the player is one on one with the GK, you have to be comfortable enough to actually finish with said player.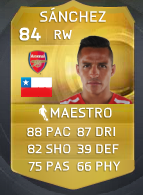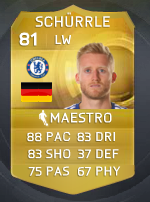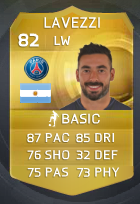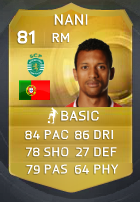 The Attacking Mid
If you don't score, you'll never win. This is the player who'll be involved with most of the goals. For this to happen, he'll have a very similar stat build to the wingers with Dribbling, Passing and shooting being the ideal stats. This is also the position which offers the most variety. You could use Cassano, Di Maria and most players in between. Work-rates aren't too important throughout this team, but the midfield is where they're most important if you want the attacking play to click. I'd strongly advise a higher attacking work-rate than defending for this position or H/H.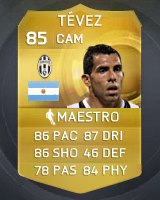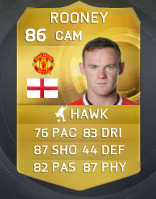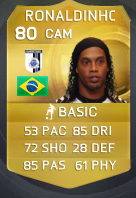 he CM Duo
This is what makes this team work. People believe that it's suicide playing without a single player who can actually defend who isn't in the back line but they're wrong. The first CM is the play linker, this will be the player who will probably have the most passes and touches of the ball so he has to be comfortable on the ball and you have to be comfortable using him. There's no real ideal player to put here, it's all down to personal preference.
The second CM is what makes this squad work. It will be an attacking-based player with defensive work-rates, they must be one tier higher than the attacking, i.e. L/M or M/H. He'll always be the first player to get back to help defend and for the majority of the time, the only one. This will be the most important player in your team so if you're unsuccessful with him, your team will be unsuccessful. There's not many players suited to playing this position and role so it may very well restrict your team selection. Examples of the players are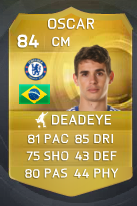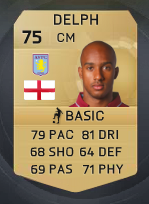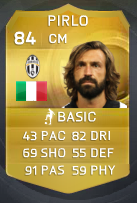 Defense and Goalkeeper.
Your going to be relying solely on the defense for the majority of your opponents attacks so it's important you find the perfect balance. All the players must be agile with the ability to fend off attacks ranging from Ibra to *. People might not be a fan of the idea, but a bog-standard BPL defense can cope with the task relatively easy. It would be nice to implement a CB with the ability to pass such as Silva but it's not a requirement.

Instructions
This is all personal-preference. It will work amazingly well for some but horribly for others. The majority of people have found success with these but don't feel they are set in stone, the only 2 that are required solely for team structure are the first two.
Front 4 all stay forward, the other 2 midfielders have the normal setting.
Defense all stay back.
Front 3 get in behind.
Midfield all free roam.
Wingers cut in.