Klose is best known for his performances with the German national team. He was part of the 2014 FIFA World Cup winning German squad, having previously finished second (2002) and third (2006, 2010) in the competition and as runner-up in Euro 2008
Klose to the Edge RTG
Miroslav Josef Klose (German pronunciation: [ˈmɪʁoslaf ˈkloːzə] born on 9 June 1978) is a German professional footballer who plays as a striker for Serie A club Lazio.
Klose is best known for his performances with the German national team. He was part of the 2014 FIFA World Cup winning German squad, having previously finished second (2002) and third (2006, 2010) in the competition and as runner-up in Euro 2008. He is the top goalscorer in the history of the FIFA World Cup, having scored five goals in his debut World Cup in 2002 and winning the Golden Boot at the 2006 World Cup in Germany by again scoring five times.Klose also scored four times in the 2010 World Cup and twice at the 2014 World Cup, which put him ahead of Ronaldo in the all-time list with 16 goals.Klose is also the top scorer of all time for Germany, who have never lost a game in which Klose had scored.Klose retired from international football on 11 August 2014.
At club level, Klose has been a less prolific but usually reliable goalscorer. Starting his career at FC 08 Homburg, he has played in the Bundesliga for Kaiserslautern, Werder Bremen and Bayern Munich, and in Serie A for Lazio. He won two league titles with Bayern, and has won cup competitions at Bayern, Werder Bremen and Lazio.
IF Miroslav Klose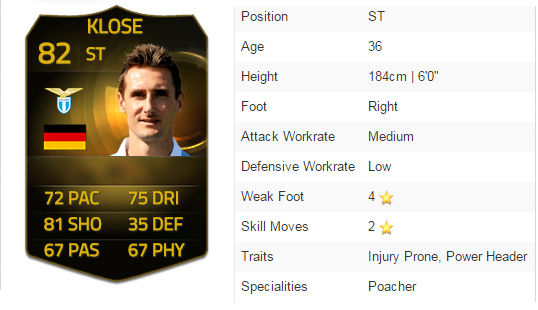 Pro's: 90 finishing, 97 heading accuracy, 93 jumping and 92 positioning. 76 shortpassing is good enough. Good nation and dribbling. 4 star weak foot.
Cons: Height is a letdown, not the strongest(77 strenght), 2 star skills.