The standard of opponent; though sweaty and exploit-hungry – is ridiculously high and it really does feel like a chess match at times. Though it might sound like common sense, my best advice is that you should aim to commit a man before making a pass and force his players out of position then find your spare man
Includes short formation guide/team review
After a month of frustration and having to adapt to such different gameplay; I have finally conquered division 1 after reaching it yesterday. The standard of opponent; though sweaty and exploit-hungry – is ridiculously high and it really does feel like a chess match at times. Though it might sound like common sense, my best advice is that you should aim to commit a man before making a pass and force his players out of position then find your spare man (especially as defense is OP). Once you've learnt to deal with 4-3-3 and wingers cutting in (by showing them wide) – it really is quite easy to defend and not concede more than a goal a game; 75% of division 1 players use a 4-3-3 variation; I'm in the minority that doesn't. Another thing to mention is that it's important to play at a high tempo; it's so much easier to defend when you have time to react and compose yourself, so don't give them that time – think one pass ahead. But yea, just wanted to make a thread; division 1 is fun but stressful – most teams consist are BPL and consist of Mbemba, Mane, Navas, Kouyate etc and it becomes a little repetitive. If anyone cares about the team I used; here it is, as well as a very short formation guide (what's important for each position).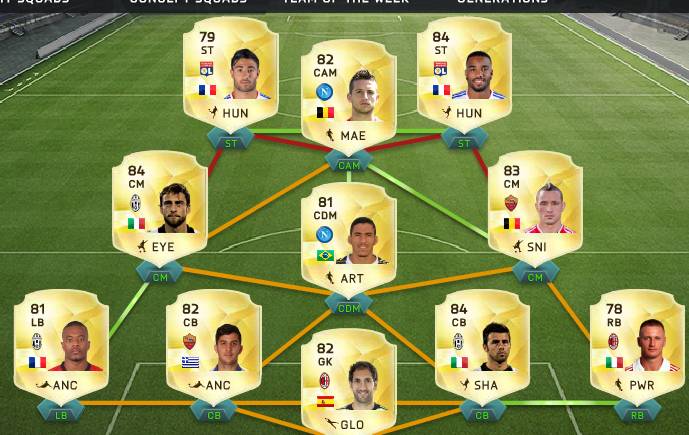 Formation: 4-1-2-1-2(2)
GK: DIEGO LOPEZ (GLOVE) – I alluded to it in another topic but goalkeepers that aren't the elite ones all play very similar. As long as they have decent stats, the most important thing is height. Get a tall goalkeeper with good overall stats and you'll be laughing. Lopez fits the bill.
LB: EVRA (ANCHOR) – You need someone competent going forward because the full-backs are the only source of width in this formation. However, the predominant factor has to be defensive stats with the plethora of 4-3-3 formations in higher divisions. Evra is the best LB in Serie A hands-down; has all wingers in his pocket with his M/H work-rates and excellent defensive stats.
RB: ABATE (POWERHOUSE) – See above for what's required. Though sweaty, Abate is a brilliant defender. Immense strength, pace and decent defending stats.
CB: BARZAGLI (ANCHOR) - As much as it pains me to say it; they need to have >70 pace and over 80 defending. For me, Barzagli is second to only Chellini (who is horribly overpriced) in this league. M/M, M/H, or L/H are a must.
CB: MANOLAS (ANCHOR) - See above. Excellent value for money defender.
CDM: ALLAN (ARTIST) - Defensive W/R needs to be higher than attacking. Needs to be a solid recoverer or the ball, as well as a good distributor. Allan is the best in the league, having tried Medel, Melo, Khedira and De Rossi. With instructions, set to stay back when attacking.
CM: MARCHISIO (DEADEYE): Needs to be equally strong in defence and attack – H/H work-rates are ideal. Marchisio is probably the biggest disappointment in this team. For his price, and given his stats, I expected better. He's a bit of a liability physically and is swept aside...his passing is also inconsistent. Guarin would be the best option, but for chemistry reasons, that's a no-go for me. Zuniga would have to go left-back and he's terrible.
CM: NAINGOLAN (SNIPER) – See about for what's required. Radja is the best I've tried; cannot praise him highly enough. Everywhere on the pitch, great passing and a bully.
CAM: MERTENS (MAESTRO) – Great dribbling, shooting and passing is a must; H/L or H/M. Pace is a plus. Dries plays this position wonderfully.
ST: FEKIR (HUNTER) – Finishing, this year, is really important, so that's the priority. Dribbling and pace are necessary in the higher divisions. Fekir is so underrated, great dribbling and strength, but his finishing can be a little annoying.
ST: LACAZETTE (HUNTER) – See above for what's required. Laca is the best striker I've tried; better than Tevez. Insane on the ball, surprisingly strong – really is a poor man's Aguero…but better strength and has Kun beat in certain aspects. Definitely worth the 60k+.