And yes, this legitimately a new fifa 15 account as it's not an fifa account such as: 'fdjfdkfjdoksj', but an account I used previously on Fifa 14. I transferred some of my fifa 15 coins to that fifa account to get things going
Help me decide on a new fifa team for divisions
I decided to start playing divisions again as I have won the Goldcup over 100 times and it's starting to bore me and I want to see what division 1 is like. I wanted to make a fresh start so I start on a new account as I have played divisions on my main before but things were different in the first week of Fifa 15 (disconnects aswell so my futscope is messed up). And yes, this legitimately a new fifa 15 account as it's not an fifa account such as: 'fdjfdkfjdoksj', but an account I used previously on Fifa 14. I transferred some of my fifa 15 coins to that fifa account to get things going. The thing is though, I just can not decide about the right side:
Team A: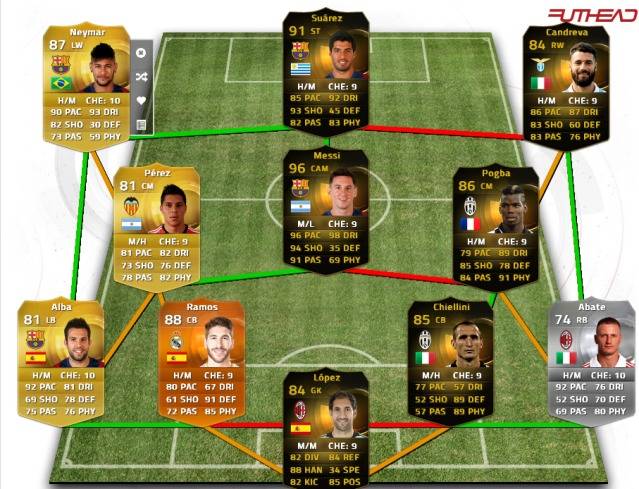 Eventhough Perez his link is no longer needed, I really liked him and seems to be a solid player. I expect this to be this an exceptional team. Only part I am not 100% sure of is IF Candreva aswell as Ramos
Team B: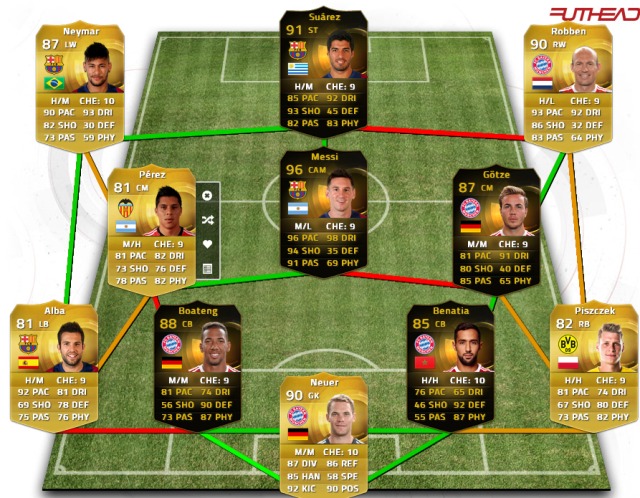 I am not sure if I can get away with Götze as a CM. I would have used this team a 100% in Goldcup as the majority are bad anyway, but I expect division 1 to be a little better and then it'd be better to have a stronger player on CM. I have also used Neuer in the past and I have never liked him. Despite his amazing stats he's one of the worst goalkeepers I have used.
Full BBVA team is not an option, I really dislike Bale and their goalkeepers suck.