The development team at EA Sports is announcing that it is celebrating seven years since the Ultimate Team mode was introduced to the series with a range of extra content for all those who own FIFA 16.
Free Packs, Cup - 7 Years of FIFA 16 Ultimate Team
Until March 28, gamers will be able to pick up free packs, one each day, filled with some of the best players in the world at the moment, which can open up new options for all player-created teams and more ways to boost the Chemistry that defines their performance.
Featured players include the likes of Cristiano Ronaldo, Gareth Bale, Hulk, Alaba, Arda Turan and more.
According to the official site, EA Sports is also running an appropriately named Birthday Cup, which challenges gamers to win up to seven matches to secure ever-increasing rewards, and also allows all those who manage to get at least one victory to claim a special Electronic Arts-branded kit.
Special pack offers for Ultimate Team in FIFA 16 are also arriving every day, giving dedicated gamers more ways to improve their first eleven.
EA Sports is also thanking gamers for the fact that they have supported the mode over the course of seven years and have made it one of the most important parts of the football simulation experience.
Ultimate Team needs to evolve in FIFA 17
The development team has sought to introduce a new variation in the current installment of the series with the Draft experience, which challenges gamers to use a limited number of players to create a competitive team.
But bigger innovations are required for Ultimate Team in the coming FIFA 17 to make sure that gamers stay engaged and continue buying player packs, a business that has created a very solid revenue stream for Electronic Arts.
No information has yet been offered about the football sim title that will be launched later in the year, and presumably, an official reveal will come during the events that the publisher is planning to run alongside E3 2016.
Rumor suggests that, for the first time in the past few years, Lionel Messi, the star of Argentina and Barcelona, will no longer be featured on the cover because of a commercial dispute between him and Electronic Arts.
Apparently, the video game company is looking for another big star to replace him, and the focus is currently on the greatest clubs in the Premier League.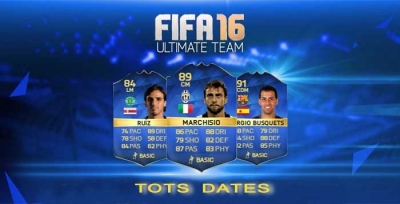 16
Apr
TOTS Dates for FIFA 16 Ultimate Team
Since Team of the Year was released, in January, we have been repeatedly questioning about TOTS Dates for FIFA 16 Ultimate Team. In fact, they were not announced by EA but we have an idea when Team of the Season will go out.