As important as it is to have a stout defence and a terrifying strike partnership, your midfielders will affect the game more than anyone else on the pitch.
FIFA 16 Top 10 Most Valuable Midfielders
As important as it is to have a stout defence and a terrifying strike partnership, your midfielders will affect the game more than anyone else on the pitch. Whether it's protecting the back line, supporting the forwards, winning the ball or scoring goals themselves, the players in the middle of the pitch are crucial to every phase of the match and a top-quality midfield will win you plenty of matches throughout the season.
We've already suggested some FIFA 16 Career mode high-potential wonderkids in another piece, but if you're looking for a quality midfield signing that can fit straight into your first-XI, we've got the goods right here. So whether you need a bruising enforcer, a tricky CAM player to unlock opposing defences, or someone quick and skilful to play out wide, read on for our favourite FIFA 16 Career Mode midfielders.
CDM: Sergio Busquets
Busquets has been a top signing for a while now. Amazingly, he's still only 27 years old, and as a more technical ball-playing midfielder, his best years are still ahead of him. He starts off at 86 overall with top-quality passing and good tackling stats too, but be aware – he's not ideal if you're looking for someone to break up the play, win the ball and chase down opposition attackers. He's slow, and he won't win many aerial battles for you. He's in the Xabi Alonso mould of midfield anchors, so if you like to play through a deep midfielder, Busquets is a great signing.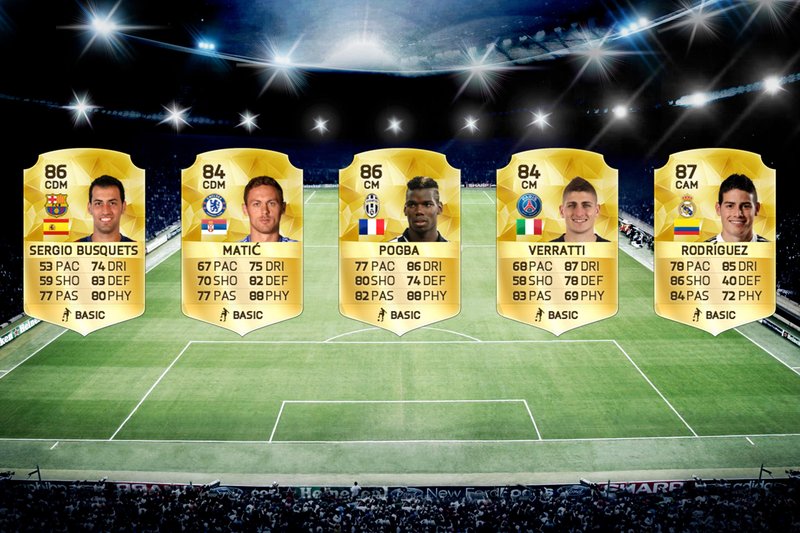 CDM: Nemanja Matic
If you're after a more of a hard-tackling ball-winner, Matic is your guy. His physical and defending stats are outstanding, especially when you factor in that he has some potential growth left – from 84 to 87 overall. He's not completely useless going forward either – his shooting stats are decent, and while he's not going to be the quickest player on the pitch, he's no slouch. If you can sign him in your first season, he'll happily dominate your matches for at least the next four years.
CM: Paul Pogba
If there's one thing we think everyone should do, at the beginning of every career mode game they ever play, it is this: sign Paul Pogba. Seriously. Pogba's 86 overall rating includes dribbling, shooting, passing and physical stats all over 80 and a fantastic hairdo that's worthy of a 90+ rating. And at just 22 years old, he'll be your midfield talisman and team leader for at least the next decade, smashing in goals from 30 yards, winning 50-50 balls in the centre of the park and reaching a massive 93 overall rating, which by then will make him the best player in the world, alongside another man who is still to come in this list.
CM: Marco Verratti
Regardless of whether you can get Pogba or not (you should though, if we hadn't made that clear enough yet), Marco Verratti is still an excellent buy, whether you're fitting him into your current side or putting him alongside Pogba. Although he's much smaller in stature than Pogba, he gets around the pitch much faster than his average pace stats would suggest, hassling opponents like a small terrier, winning the ball back and setting up team-mates with his excellent dribbling and passing stats. He'll get as high as 89 overall too. Not too shabby.
CAM: James Rodríguez
Right behind Paul Pogba in the priority signing queue, Rodríguez was tipped for greatness well before he won the Golden Boot at the 2014 World Cup. His performances for Colombia in Brazil made him hot property, and got him a huge contract at Real Madrid. That contract will make it very tough for you to sign him straightaway, but every player has their price, and in the case of Rodríguez and his 93 potential rating, no price is too high. Sure, he's not the quickest, but his shooting, dribbling and passing stats are all 83+ and like Pogba, he'll grow into one of the best players in the world. A must buy.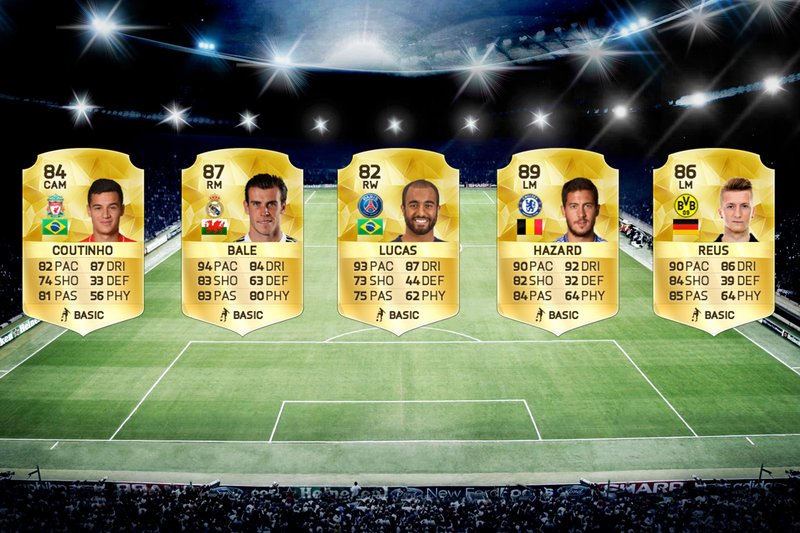 CAM: Philippe Coutinho
There are loads of other good CAM players that could go here – Mesut Özil, Kevin de Bruyne and Mario Götze, to name a few. But their games are very similar to that of James Rodríguez, and they're only worth signing if you're not going to sign the Colombian for whatever reason. Philippe Coutinho is a different style of player, pacey and threatening when given room, he strikes terror into lumbering defenders with his 89 acceleration, four-star skill moves and fantastic vision and short passing. If anything, his shooting is still underrated by EA, but he'll grow from an 84 to an 88 overall, and at just 23, he offers plenty of longevity too.
RM: Gareth Bale
Bale's struggles in Madrid have been well-documented, but truthfully, he's still a world-class talent and at 26, he's in his prime as an attacking force. Regardless of his real-world problems, FIFA still has him ranked as one of the best wingers in the game, and with a whopping 94 pace, alongside dribbling, passing, shooting and physical stats, you'd be silly not to sign him up if you have the chance, especially when he still has four points of overall growth left, up to a max rating of 91.
RM: Lucas Moura
As we've mentioned before, there's a bit of a lack of right-sided talent in this year's game, save for Lionel Messi, Arjen Robben and the man we've just mentioned. If you're looking for another alternative for that right midfield slot, we'd probably plump for Lucas Moura, who currently plays for Paris Saint Germain. He's not going to do the defensive work that Bale would do, but he's still rapid, with 95 acceleration and 91 sprint speed. His dribbling stats are 85+ and given a bit of time, he'll grow into a decent finisher as well. Even better, you can often get him on the cheap after a season or so. Just keep an eye on his contract status.
LM: Eden Hazard
Sure, he's having a rough season this year, but Hazard's body of work over the last few years more than justifies his excellent FIFA rating this year. In Career Mode, he's a rare gem of a wide player that can hurt the opposition in a multitude of different ways, with shooting and passing stats of 80+, as well as 89 pace and 92 dribbling. In short, he's almost unstoppable. Unsurprisingly, that makes him almost unsignable as well, but if you can cash in some FIFA coins to grab yourself a big transfer budget via the 'financial takeover' perk in the catalogue, he's yours.
LM: Marco Reus
Neymar is of course, the obvious 'other' signing you should make if you're trying to find a quality left-sided midfielder. But as he's more of a forward, we wanted to mention Marco Reus as a player who doesn't get the attention he deserves. At 26, he's has a couple of points of growth still in him – up to 88 overall – and he's an incredibly well-rounded winger, with 90 pace, and dribbling, shooting and passing stats of 84+. Like Hazard, he can hurt you with goals and assists, except he likely comes a little cheaper than the Belgian and he's a much better free-kick taker too.