I have been playing FIFA since 96 and online since FIFA 13. I really enjoy playing FUT and Online Season and in both I have won Division 1 a couple of times. I will not say I'm super good, I think I'm an average player. But this is what most of you guys out here are, so that's why this will be a good read for you.
FIFA 16 Guide: Crush high pressure opponents
1. Introduction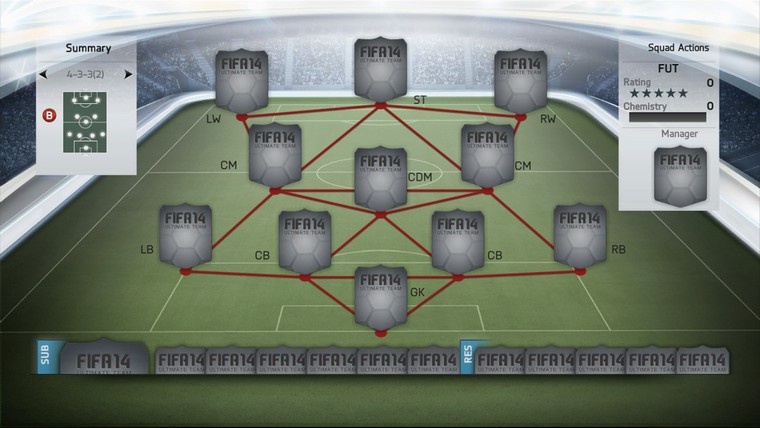 I never really posted a lot before, but I think something was kind of missing in the guides section. A proper guide to 433(2) and a guide to beating high pressure by using possession play.
Since almost everyone in FUT and Online Seasons is using high pressure, it will be very usefull if you know how to play against it.
This will be my first guide ever, so please don't be hard on me.
Background
I have been playing FIFA since 96 and online since FIFA 13. I really enjoy playing FUT and Online Season and in both I have won Division 1 a couple of times. I will not say I'm super good, I think I'm an average player. But this is what most of you guys out here are, so that's why this will be a good read for you.
Why 433(2)?
I'm a big fan of Barcelona in real life, since their play is just magical at times. In my opinion the best way to beat high pressure is possession play.
I have tried all formations this year and couldn't really settle with any of them for possession play.
I have always been playing 433(2) in the past, but it looks so standard and dull. Nevertheless I switched back to it and started tweaking the formation a little bit and I'm at a point now that I'm more than satisfied with the results.
In my opinion 433(2) is the best way to keep possession and still be dangerous and unpredictable.
Pro's:
Possession play (Average will be at 55-70% if you master it)
Effective counter attacking
Balanced
Good against high pressure
Con's:
You need a lot of patience because the learning curve will not be easy
2. The formation explained
There are different ways of playing with this formation, as it is very balanced. You can choose to make the game, like Barcelona or Bayern does, which means you will have possession for most of the time. You can also choose to give the ball to your opponent and sit back for a counter attack, more like Real Madrid does.
I always start off trying to make the game and this will work most of the times. It will result in a lot of possesion, I have games where I reach 70%, which is a lot in FIFA.
But sometimes the opponent is just better than you are in holding possession. In this case I try to find the open spots in his formation when he is attacking. A good counter attack will be a very strong weapon.
A big part of the learning curve will be adapting to your opponents and using this formation to it's maximum potential.
Possession play
I have tried the possession custom tactic, but I do not like it at all. It feels slow and you will get stuck on your own half at times a lot. I will explain about custom tactics later on.
The best way to dominate possession, is getting out of your own half and moving the game up the pitch.
So how do we actually move the game up the pitch?
Starting from the GK to the midfield:
There are some options here… It kind of depends on how your opponent is playing. For example, if he's using 3 strikers pressing you CB's, I do not recommend you throwing or kicking the ball to them, because the risk of losing the ball will result in a goal 9 out of 10 times. Also the trick of giving it to the fullbacks is known by a lot of people now, so try to find out as quickly as possible if he is covering them, use the radar!
Scenario 1: He is not pressing your defence, which is the most ideal situation. Give the ball to your CB's or LB/RB. From there you can switch it up to the CDM. He is actually one of the most important factors in starting your attack. He is in the centre of the field, which means, he can reach a lot of players. I use a lot of 1/2 passes between my LB/RB and CDM to move the game up the pitch. If you can make a run, or go past a player with your LB/RB, DO IT! It will give you a huge amount of space. Be carefull with going past players with your CDM, because losing the ball here is a very dangerous place.
I always use as a rule of thumb: take risks on the wings, because you are not vulnerable there. Try to take as less risk as possible with your CDM and CB's.
With possession play it's really important not to lose the ball at your own half, because you are very vulnerable here.
Scenario 2: He is pressing the back 4, and has your CB's and FB's are covered. No problems at all, see if you CDM is free, if not your LCM, RCM will definitely be. Throw the ball and build from there. If you are kicking, your wingers will be available most of the times as wel. Using the radar here is crucial.
Scenario 3: He kind of has all your players covered because he is using high pressure. This can be a problem, but doesn't need to be. It all depends on the striker you are playing. Which ofcourse I will explain later on. If you are using a target man, this scenario will be no problem for you, because you can kick to ball to him and he will win 9 out of 10 headers.
Midfield to attack:
So I suppose that you made it over the midline by now. Don't rush it! Stay calm.
Try to progress slowly from here. Because now the rest of your team can move up the pitch as well. This creates a massive trap for your opponnent, because when you lose the ball now, there are 10 players in this area who can put pressure and win the ball back.
This is also a rule of thumb: When you lose the ball in your opponents half, put pressure and win it back within 5 seconds. This will work a lot of times and this is how Barcelona and Bayern play as well. This is why they have 70% possession or more! Not because they are playing the ball around in the back, but because they move the play up the pitch and work their asses off when they lose it.
Attacking:
Does not need a lot of explaining, but I'll give you some tips. In this formation, you will not have a topscorer. Because you play possession based, anyone can score, even your CDM. Try to make 1-2 combo's and find open spaces. For example my 2 CM's score a lot of goals with longshots, but also because they got in the box by using a 1-2 pass.
How many goals your ST will score, depends on the ST you are using. A targetman will score less goals, but will have a lot of assists. A jack of all trades will average these numbers. A quick agile ST, will score a lot, but I do not recommend this type of ST in this formation, I will explain why later on.
How much your wingers will score, depends on how good they are at finishing, I see a lot of people using wingers like Bolasie, Ibarbo, etc. They are indeed very fast and very strong. But everytime I face these kind of wingers, I see them missing 9 out of 10 chances. Pace and strength are not the attributes I look for in my wingers for this formation. Passing, dribbling and finishing will get you the results you want. How great is it to have a winger that can deliver accurate passes and give a good cross. As well as scoring almost every chance he gets.
Enough said. Let's move on to the specific players for this formation.
3. The players
Note: I will only cover NIF Gold players and only players that I have used myself.
GK:
People always say, use the GK you like. I do not agree with this. There are stats on a GK that are very important in this formation. Since we are playing a possession based game, he must be a good thrower and kicker. These stats are most important. Every GK stops goals in this game, since they are already OP.
I personally think diving and reflexes are overrated. 75+ is more than sufficient.
Height is very usefull for stopping longshots, but the negative side is that you mostly get slow GK's. I prefer quicker ones, because this formation is countered at times and you will need him to rush out quickly if that happens.
So in short: look for good kicking, decent overall stats and if possible long thrower trait.
Best GK's: Neuer, De Gea, Leno, Bravo
Good GK's: Diego Alves, Mandanda, Hart, Begovic, Sirigu
Personal favourites: Neuer, Sirigu
CB's:
I try to work with CB's that have good passing stats, since they are responsible for the build up play to your LB/RB and CDM. If they have bad passing, it will be very hard to do this properly.
Important stats in my opinion here are: Standing tackle, Sliding tackle, Strenght and interceptions.
The most ideal CB is a guy that is good with the ball and can defend solidly.
Unfortunately there are not a lot of these around. Therefore you can choose to pair a CB as described above with a solid CB, who is good at defending and heading, some strenght does help as well. Pace does matter but is not most important. I do advise you to always have at least one quick CB, which in most cases also is the ball playing defender.
Best ball playing CB's: Thiago Silva, David Luiz, Pique, Hummels, Javi Martinez, Ramos, Boateng, Koscielny, Naldo, Godin
Good ball playing CB's: Bartra, Vermaelen, Mascherano, Matip, Nkoulou, Alderweireld, Schär
Personal favourites: Ramos, Thiago Silva, Boateng, Godin
Best solid defending CB's: Chiellini, Mertesacker, Garay, Terry, Sokratis, Otamendi, Kompany, Miranda, Pepe, Benatia
Good solid defending CB's: Mathieu, Höwedes, Varane, Bonucci, Castan, Caceres, Barzagli
Personal favourites: Otamendi, Miranda, Benatia, Mathieu
Best pairing: 2 ball playing CB's, with solid defending stats, for example David Luiz + Thiago Silva is a really good combo. Pique + Ramos is also very effective. Boateng + Hummels as well. And so on.
Solid pairing: 1 ball playing CB with a solid defender.
Workrates: M/H or L/H is good for a solid defender. It means they will stay back and don't actually do buildup play a lot. Most ball playing defenders will have H/M or M/M or H/H. In my opinion workrates do not really matter here, as long as you are using solid players. I have experienced that pairing a M/H with a H/M works really well. I suggest you experiment a little with that and find what suits you best.
LB/RB:
These guys will be a great addition to our attacking line, so they really need to be complete players. Passing, crossing, longshots, defending, they have to do it all. They will be running over the pitch for the whole game, so stamina is also something to look for. I don't really care for pace here, I think it is more important they are good at attacking and defending as well.
Best LB's: Alaba, Jordi Alba, Rodriguez, Marcelo, Baines
Good LB's: Sandro, AZP, Filipe Luis, Tremoulinas, Gaya, Kurzawa,
Personal favourites: Alaba by faaarrrrr (he is so good omg), Jordi Alba, Gaya (cheap Jordi Alba).
Best RB's: Dani Alves, Lichtsteiner, Carvajal, Zabaleta, Aurier
Good RB's: Walker, Danilo, Coleman, Piszczek, De Marcos, Montoya
Personal favourites: I prefer Dani Alves, he is such an attacking player, which is really usefull in this formation. I also really enjoyed playing with Aurier, who is very strong.
Workrates: Try to look for H/M, I think attacking is more important on this type of player than defending.
CDM:
One of the crucial spots in your team and also a tough one to pick, since there are so many different types of midfielders. Basically what's important for this player is building the game and intercepting passes. I personally prefer a player that has good short and long passing, defending stats are not that important for me, since defending is kind of OP this year. But I do not advise this when you struggle with defending. If you do struggle I'd use a more defending type of player, but still with decent enough passing. You can also choose for a player that fits right in between these two styles.
Best Building CDM's: Busquets, Lahm
Good Building CDM's: Alonso, Motta
Best Tank CDM's: Matic, Khedira, De Rossi Krychowiak
Good Tank CDM's: Matuidi, Luiz Gustavo, Schneiderlin, Melo
Best Allround CDM's: Vidal, Fernandinho, Nainggolan,
Good Allround CDM's: Ramires, Verratti, Marchisio
Personal favourites: Busquets, Krychowiak, Matuidi, Vidal
Workrates: M/H is best here, but M/M or H/H will work as well.
CM's:
Here you have 3 combinations in my opinion:
Playmaker + playmaker
Playmaker + Box-To-Box
Box-To-Box + Box-To-Box
This really comes down to personal preference. I like to play with two playmakers, because it makes your attack really dangerous. But I also had great results using a playmaker + box-to-box, wich felt really balanced.
I always try to have at least one CM with good long shots, because it is just a great weapon to have. I don't care for pace on these players, passing and dribbling is crucial. Also if you do use a box-to-box midfielder, stamina will come in handy, because they will cover a lot of field.
Best playmakers: Iniesta, Özil, Fabregas, De Bruyne, David Silva, James
Good playmakers: Cazorla, Isco, Götze, Pjanic, Rakitic, Kroos
Best Box-To-Box: Modric, Pogba, Vidal, Marchisio, Nainggolan
Good Box-To-Box: Ramsey, Pereyra, Parolo, Witsel, Ramires
Personal favourites: Iniesta, Modric, De Bruyne, Rakitic, Marchisio, Pereyra
Workrates: I personally do not care for workrates here, but I do not advise higher defending that attacking, so M/H, L/H and L/M is not going to be great.
LW/RW:
Pace is not important here, but there is a minimum requirement here, you must be able to beat most CB's, so I advice 75+. You are looking for a winger that is good at finishing, passing and crossing. Skill moves might come in handy here, so I advice you look for 4* skills, also 4* weakfoot is recommendable.
There is a wide range of choices here, but I suggest H/L, H/M workrates. There are a few exceptions like Messi, Reus, etc. You can alther their workrates by using personal instructions.
Best LW's: Ronaldo, Neymar, Reus, Hazard, Ribery, Sanchez
Good LW's: Nolito, Konoplyanka, Perisic, Lavezzi, Felipe Anderson
Best RW's: Messi, Robben, Bale, Hulk, Candreva
Good RW's: Arda Turan, Willian, Douglas Costa, Berardi
Personal favourites: Nolito, Arda Turan, Robben, Neymar
Workrates: Don't really matter since you can change personal instructions. But the best is H/L or H/M.
ST:
Last but not least, in fact, the player that makes or breaks this formation. As you see, there is a lot of space in the midfield with this formation. Your ST will be an important factor in keeping the ball in your opponents half. I think there are 3 kind of strikers: Target man, Jack of all trades, Fast striker.
Target Man:
@BlitzersNL wrote a great guide for this: http://fifaforums.easports.com/en/discussion/81517/the-ultimate-targetman-guide/p1
I will cover it in short. A Target Man is big, strong and has good at heading. He is great in holding the ball and I personally think this is the most effective ST for this formation. Ibrahimovic is the best target man in my opinion.
Jack of all Trades:
A ST that just has it all, I think Lewandowski is a great example.
Fast striker:
A quick striker can be really dangerous, but since we are looking for possession play, we need someone who kan hold on to the ball for a while and I personally think Aguero who is a fantastic example won't do the job.
Best ST's: Ibra, Suarez, Lewandowski, Aduriz, Martinez,
Good ST's: Cavani, Benzema, Jovetic, Lukaku
Favourite ST's: Ibra by a country mile, he is amazing in this formation. Ofcourse Suarez and Lewandowski are great too.
Workrates: H/M or M/L work best, M/M tends to be everywhere but on the right spot I feel. And H/H can work if you use Muller or Rooney for example.
4. Custom tactics and player instructions
I copied the playing style of Barcelona and Bayern, so I actually use their custom tactics, because they work very well. They are very similar.
Barcelona CT:
35 / 44 / FF
36 / 49 / 56 / FF
61 / 65 / 65 / C
As you see, there is slow buildup play with short passing and high pressure which allows you to keep playing high up the pitch.
Bayern CT:
45 / 30 / FF
29 / 30 / 22 / FF
72 / 53 / 59 / C
A little bit different, but I suggest you try both and see what fits. If you don't like both, tweak them to your own preferences. I personally use Barcelona's CT and it just works great.
Player instructions:
This is where you can mess up a lot actually. I have tried a lot of different settings and they never really worked for me. I always try to keep everything standard as possible, to stay unpredictable. I will change things because of a players workrates etc.
I think player instructions are a great tool to get the maximum out of a player and you should change them accordingly. For example you should not set Ibra on get in behind, because he isn't that kind of striker. If you put target man on him, I promise you he will be 10 times better.
This is what I use now:
CB: Standard
LB/RB: Always overlap
CDM: Stay back while attacking
CM's: Standard
LW/RW: Get in behind
ST: Stay central, Target man
I put my fullbacks on always overlap, because I think they are of great value while attacking. Don't be afraid of counter attacks, because the beautiful thing is that they will help pressing in your opponents half as well. If your opponent counters you, there will still be 3 players in the back: CB's + CDM. I just try to defend with them and in the meanwhile drag my LB or RB back.
CDM on stay back is pretty standard I guess, it doesn't really help, because they still bomb forward like idiots, but when on stay back they won't do it that much and if they do it they score for me most of the times.
Wingers on get in behind, just makes them more dangerous. If you use a M/L winger or a M/M I'd suggest you put them on stay forward.
Striker is on target man, because I use Aduriz and I like him to stay central as he is not that fast. If you use Suarez for example or Lewandowski, just leave everything on standard instructions.
5. Conclusion
Well guys this is it. I had a lot of fun writing this. If you have any questions, just ask them and I will answer you asap. It would be nice to see what squads you guys are using, but if you want I can build you one.
I do strongly advise you to experiment with this and not to give up in the first 20 games. The learning curve is hard, but once you get the hang of it, you can 'play beautiful' and in my opinion that's how football should be, it will make the game a lot more fun.
Squad I'm currently using: