To summarize most of what I have read so far in opinions of people here & to help EA focus on what the majority nearly believe, here's a short list
FIFA 16 Demo Summary of forumers Opinion
To summarize most of what I have read so far in opinions of people here & to help EA focus on what the majority nearly believe, here's a short list: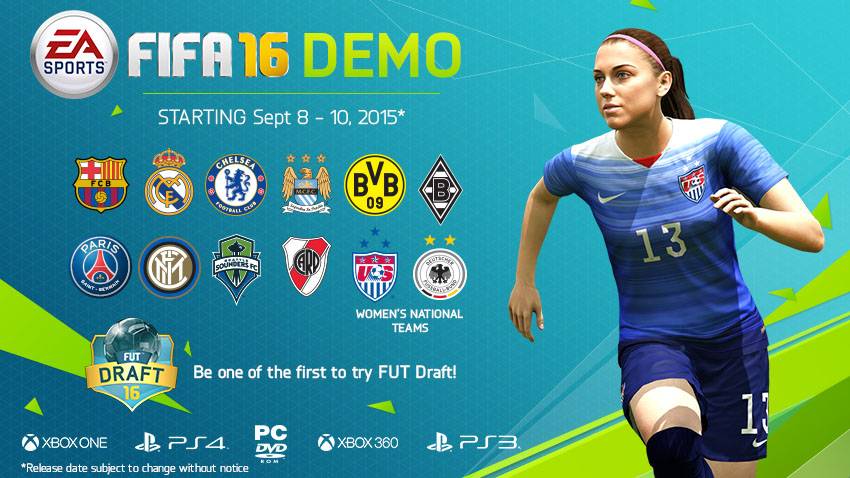 1- Tempo of the game: the majority likes it, so the speed of the gameplay is excellent.
2- Dribbling: Needs tweaking as it's deeply nerfed, in comparison even to FIFA 14 which had poor dribbling, this year it's even poorer & top dribblers in real life can't show that totally in game.
3- Agility: Agile players are not agile in game, seems agility stats do not reflect on the field & it needs to reflect better coz. it's also affecting dribbling ability & making it extra hard to pass by midfield/defense this year, turning is too sluggish. Slight tweaking would be great.
4- Shooting: Ball has no lift while shooting in many cases, while at the same time full bar shots from the middle of the field goes in easily as the keepers come out strangely.
5- Passing: was improved but still needs tweaking as the ball physics somewhat goes wrong where the ball either come too strong or too slow, sometimes it goes random against the direction of the pass to another player.
6- Interceptions: A great mechanism.
7- Defense: Simply amazing.
8- Keepers: far better than last year but still they don't close their narrow angles of the goal same like 15, this needs fixing.
9- Players Individuality: Needs better work as you can hardly notice the difference between top rated players/low rated ones or between attackers/defenders in most of the situations, it's clearly due to nerfed dribbling/agility.
10- Players Pace: it's great to kill the OP pace of 15, but there must be even a little felt difference between skilled dribblers with high pace like "Messi/CR7/Neymar" & slow defenders who are able to catch them easily even if they were in front of them by miles on the road to goal.
11- Crosses/Headers: it's 50/50 between people here, some think they are OP while others think they are fine. Online will determine later.
12- Skills: Some skillers on the forum are annoyed of nerfing the ability to do some skills, it seems that the new no touch dribbling is the only skill people can do easily this year, I am not a skiller so I can't tell more but that's how many think here.
13- Referees: no big issue.
14- Finesse Shots: 50/50 between people here too, no big issue.
FIFA 16 has great potential to be the best football game ever if some issues are handled with caution & balance.