How does the MLS stack up against La Liga, Serie A and the Bundesliga in terms of talent? We've pulled together a team of promising youngsters to find out.
FIFA 16 Career Mode: MLS Wonderkid XI
Since David Beckham famously took his talents to the LA Galaxy, the American MLS has become a hot destination for big European stars looking for one last big payday before retirement. That's not to do a disservice to Major League Soccer of course – the standard of football in the USA has come on in leaps and bounds in recent years, and American stars like Landon Donovan, Tim Howard and Clint Dempsey have all had successful careers in the sport, both at home and overseas.
So, with soccer gaining popularity in the US, the time is ripe for a new generation of young footballers to come to the fore. How does the MLS stack up against La Liga, Serie A and the Bundesliga in terms of talent? We've pulled together a team of promising youngsters to find out.
Goalkeeper
Bill Hamid/Marco Carducci
If you've been reading our league by league guides to finding the best talent in FIFA 16 Career Mode, you should know by now that England and Germany are the best leagues to find top young keepers. The MLS, it seems, is not, and your options are extremely limited here. Bill Hamid is the best on offer – D.C. United's 24-year-old stopper is solid but unspectacular, with a potential overall of 79. Or you could pick up Marco Carducci from the Vancouver Whitecaps, who has an overall of just 58, but masses of growth potential.
Right Back
Alvas Powell
Like many on this list, Jamaican-born Powell has one thing immediately going in his favour, and that's bags of pace. His 84 acceleration and 89 sprint speed stats let him bomb up and down the right touchline, causing havoc and creating opportunities for attacking players to do what they do best. Aside from that, he's a pretty well-rounded full back, but you'll want to work on his crossing and his defending if he's going to become a regular part of your team. Still, he has a potential ceiling of 78 overall, so there's plenty of time to mould him into the player you want.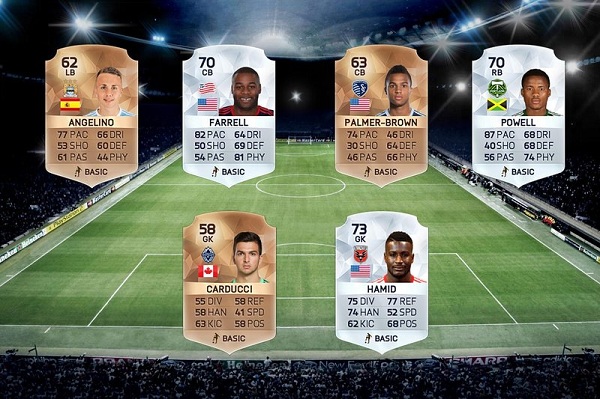 Centre Back
Erik Palmer-Brown
Palmer-Brown is certainly a work in progress, but there have been signs this season of an immensely talented young player under the surface, and EA has recognised that with a solid potential rating. His decent pace will make him useful across the back four, and he has a solid foundation of defending and physical stats. Keep working on those, and Palmer-Brown will grow into a very competent defender, boasting a potential overall of 78 – a whopping 15 points higher than his starting overall.
Centre Back
Andrew Farrell
With Matt Miazga now on Chelsea's books, and John Brooks playing for Hertha BSC, Farrell is next in line when it comes to talented young American centre backs. He's an interesting mix of stats – he has impressive physical numbers, and his 85 acceleration makes him more than a match for most forwards in the pace department, but he doesn't have the tackling skill or tactical nous of his European positional counterparts. Still, there's time for improvement – Farrell will rise to 77 overall and that extra bit of pace will always make him a useful part of your squad.
Left Back
Angeliño
Okay, so he's on loan from Manchester City, but he's really your only option here so we're breaking the rules. City's loss has been New York City's gain this season, as the young Spanish left back has looked like a quality prospect alongside the likes of David Villa, Frank Lampard and Andrea Pirlo, and has shown bags of pace and attacking intent when he's had the chance to play. He's actually much quicker than his FIFA counterpart, which is a shame, but EA have at least got his potential about right – he'll grow from a paltry 62 rating to 81 overall in time, with particularly good dribbling and passing stats.
Right Midfield
Eric Ayuk
Ayuk may not be quite as threatening as the man on the other side of your midfield – we'll get to him in a bit – but he's still got some potential. His 86 acceleration and 84 pace make him quick enough to slip in down the right hand side, and he's an impressive athlete as well, with 80 jumping and 85 balance on top. His shooting and passing needs some work, but he'll turn into a decent winger with a few years of training and loan spells, getting all the way up to a ceiling of 79 overall.
Central Midfield
Ben Swanson
Columbus Crew's young star is one of the brightest in all of the MLS. At just 19 years old and 62 overall, he's certainly not a ready made prospect for your first XI, but boy does he have some growth potential. With the right training and some successful loan spells, Swanson will grow 19 points overall, up to a solid 81 rating. Not only that, but his base stats are pretty good too: he's quick around the pitch thanks to his 79 acceleration, he's good on the ball, and he's comfortable on his weak foot too. All in all, a very good prospect.
Central Midfield
Tommy Thompson
Thompson has had some fantastic showings recently for the US national team, and continues to go from strength to strength at club level, too. As emphasised by his stats, he's a direct attacking midfielder who loves to run at defenders and create opportunities. Unfortunately, his passing stats are underwhelming and his pace leaves a little to be desired too. But if you can work on his dribbling, vision and positioning on the training pitch, Thompson can become a useful part of your squad, growing up to a 78 overall rating.
Left Midfield
Kekuta Manneh
You have a few options at left midfield, but there's two good reasons to take Kekuta Manneh from the Vancouver Whitecaps – acceleration and sprint speed. Manneh's 96 acceleration and 92 sprint speed makes him one of the ten fastest players in Career Mode, and his four star skill moves only make him more potent when rampaging up the left hand side. Although he starts at just 69 overall, his pace and skill give him the perfect platform for you to build him into a world class winger, and he'll grow to a potential overall of 80 with the right training.
Striker
Lucas Melano
22-year-old Lucas Melano is a year outside of our usual age limit, but MLS isn't exactly packed with young striking talent, and Melano is worth looking at if you love having some pace up front. We're talking serious pace, here – Melano has 89 sprint speed and acceleration, which makes him a killer in MLS, but also effective in almost any other league in the world. His dribbling, shooting and physical stats are alright, but Melano has enough room for improvement that you could mould him into a world class finisher with a bit of time, taking him from 72 to 81 overall.
Striker
Bradford Jamieson IV
Undoubtedly the most American sounding American on this list, Bradford Jamieson IV also happens to be a very useful striker, bringing plenty more pace to your front line. The rest of his game needs some serious work – not surprising given his low overall rating – but he's got useful stats in the right places, with good balance, agility, dribbling and finishing. He's not very strong, and his heading is poor, but if you focus on his qualities and train him as such, Jamieson IV will turn into a very solid line-leading striker, rising up to 79 overall.