Goalkeepers have been completely rewritten for FIFA 15 with over 50 new save animations, improved AI and a new, realistic player model. Sound familiar? This lie was originally told by EA,
EA FIFA Continues to do the Impossible
Dear Electronic Arts, (Not like you will pay attention to this any ways seeing as nothing gets fixed unless it will net EA profits),
I am an avid FIFA player, playing every FIFA since FIFA 2002. That's right, I had FIFA 2002 on the PlayStation 2! Anyways, over the years, I have chosen to stick to mostly Career mode, and every year since FIFA 13, I have been reminded why. In FIFA 13, I chose to begin playing online. And well, here we are. Today, 26 January, 2015, and I am cruely reminded why I choose to stick to the underworld in which Electronic Arts has abandoned. I play Co-op seasons quite often, last year actually had a pretty admirable record. This year has been a struggle, not only finding a team that works, but a strategy that works as well. The previous games played tonight though, have made me lose complete faith in the FIFA series. I will begin this argument, with a breakdown of just about everything imaginable that could and was SAID to be fixed by Electronic Arts, and still has not been fixed:
1). Goalkeepers- "Goalkeepers have been completely rewritten for FIFA 15 with over 50 new save animations, improved AI and a new, realistic player model." Sound familiar? This lie was originally told by EA, and still is posted on the FIFA "News" Section. I present my evidence, one Manuel Neuer (90 Rated). Let's briefly ignore the the absolute spasm attack that one might call an attempted save, and focus on his ability. Previously only one keeper has ever one the Ballon d'Or, and the German keeper put up quite an attempt at it this previous season. So, an explanation in why the man catches the ball about as well as Bill Buckner would be greatly appreciated, in fact, why don't you fill the cover up with true facts like that, instead of the same old lies, and paid off reviews that typically clutter the back of the packaging.
2). Pace Abuse- Oh well, shucks, where do I begin? I love a good old fashion possession build up, and finish it off with a nice goal from the number 9, but FIFA 15 has taught me better, FIFA 15 has taught me that this is not possible. So, instead I look towards Real Madrid, despite being an avid Chelsea fan. (Diego Costa plays about as well as Stevie Wonder at his 1984 Arsenal tryouts, so Chelsea is out). Gareth Bale was recently recorded to be the fastest footballer in the world, running an astounding 21.56 mph (34.7 km/h). So, once again, an explanation would be splendid in why Xavi, with an astounding 65 Sprint Speed, is able to consistenly outrun the gazelle himself.
3). Finishing- This one is short and simple, James Rodriguez, golden boot winner of the 2014 World Cup. Yet, in game, at POINT. BLANK. RANGE. Can manage to pull a full on magical trick for the record books, and soar the ball so high, that some conspiracy theorists may believe that exact ball to be the reason flight MH370 went down.
4). Updates- Lol. No seriously, I can't even have a topic on something that doesn't exist.
5). Money Obsessed Tyrants- When Ultimate Team was first introduced I liked the idea of building a team online, and playing against others, kind of like an online career mode. However, the years have changed my opinion. Since its release, EA have turned this into a full on ambush to steal gamer's money by offering many in game "micro-transactions". It is because of this, that EA seem to have focused all of their energy into this game mode, and completely neglecting every thing else. Might I specify, that by "focusing all their energy", I mean that they add in useless players, and dumbfounding TOTWs. All the while, players that enjoy playing any other game type are left to the mercy of glitches. And by glitches I mean consistent problems blocking players from even playing. Example, play a Co-op seasons game, mid way through pause the game, open your team management screen. Don't be surprised if you are staring at your opponents team sheet. For example, if you are playing Real Madrid v Juventus, and you are Real, you pause the game to make a sub, open up the team management, and low and behold, you are unable to make a sub change, because you are staring at Tevez and his minions, instead of your own team sheet. Awesome.
6). EA Ducks Sick- That's right, I said it. This has been my Pro Clubs team name for ages, and every year, as if its the age old tradition of putting Santa on top of the tree, it brings a tear to my eye to type in "EA Ducks Sick" into the team name portion of Pro Clubs.
In conclusion, Electronic Arts have really set themselves apart from the competition. By ignoring consumers, and focusing souly on profits, and propaganda type lies to scam millions out of $59.99, for the same old game, they have truly become my inspiration. You see, if it wasn't for Electronic Arts, and more importantly FIFA 15, I would have not spent the last bit of my time on these forums typing this information. Oh, and by chance any one from the EA "Headquarters" actually does read this, my Gamertag is, "Highly Enraged" and I am on the Xbox consoles. Please, please, please, please, ban me from these forums, ban me from this game, ban me from the punishment that I put myself through day in, and day out, hoping, praying, dreaming, of the day that I can once and for all score with Cristiano Ronaldo.
I appreciate your time, and if you've made it this far, I truly applaud your efforts. Last but not least, someone explain to me why the * this, animated, POS scored a hattrick on me in my last Co-Op Seasons online game.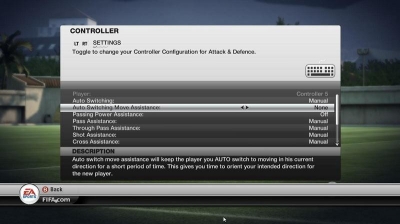 06
Feb
FIFA 15 PS4 Real Manual FC now on Playstation
Real Manual FC is moving over to PS4, we are looking for Manual control players that want to test their skills against mainly Assisted Pro Clubs teams.