Then i noticed those 45500 fifa points. When you think that 10.000 fifa coins costs 99.99€ in the game, you do the math. 5500 points would cost 54.98€
CLUB RESET and more than 400€ worth of FIFA points appeared out of nowhere
OK guys this is a little crazy. 30 minutes ago i connected to my PS4, as usual, then i entered FUT, as usual, but then what happened was out of this world!
First, it asked me if I wanted to change the name of my club (I thought; "ok that's weird!") so i said yes and it started as if it was the first time i was playing on FUT, giving me a sh1tyy bronze pack and asking me to play a game online to get familiar with the game.
I was a little shocked so i though my girlfriend might have change the user of the PS4 or something? I wasn't thinking straight so i shut the console down and i re-started it.
At first i didn't even notice the 45 500 fifa points credited. (or maybe they weren't there the first time?! i'm not sure) All i noticed was that my 4.000.000 fifa coins had disappeared and that my record said 0-0-0 when it should be like 650-200-350. No Messi, No Ibra, No Ronaldo, no one. There was absolutely zero players and zero items anywhere in my club.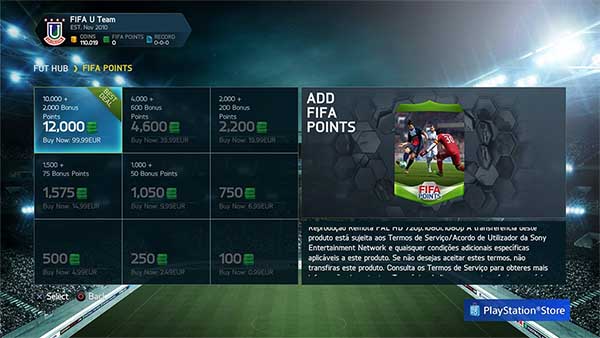 Then i noticed those 45500 fifa points. When you think that 10.000 fifa coins costs 99.99€ in the game, you do the math. 5500 points would cost 54.98€
so 4x99.99= 399.96€
399.96 + 54.98= 454.94€ worth of fifa points.
I'm not sure if I got fked here to be honest as i had some very decent players. I think if i sold all of them, i would have had like 14 millions fifa coins. Not an amazing club by any means but still a decent one which i built entirely without cheating and buying coins on internet. It's important that i precise that i never bought any illegal coins.
I would have no interest lying here as my goal is to understand what happened and what I should do. If i use those fifa points, there are no guarantees i would get good packs. I'm thinking about contacting them but i would like some thoughts from other customers first.