Welcome to my 3-4-1-2 FIFA guide. I used to play with winger formations only, but as I wanted to give SIF Sneijder a good shot, I tried this formation. It really surprised me. It is a fun formation, with a lot of attacking opportunities
3-4-1-2 FIFA 15 Guide: Make your CAM a hero
Welcome to my 3-4-1-2 FIFA guide. I used to play with winger formations only, but as I wanted to give SIF Sneijder a good shot, I tried this formation. It really surprised me. It is a fun formation, with a lot of attacking opportunities. Your strikers will score most of the goals, but your CAM is key in this formation. He will assist and score as well. Defensively it is a bit venerable, but it is doable. You need to be a semi to good defender to make this formation work, but if you are, you are in for a lot of fun and some good results.
3-4-1-2 can be great if you pick the right players. So let's have a look at every line.
Goalkeepers
Just pick a good one. Courtois has been the best for me, but any goalkeeper makes mistakes. Up to you which one you pick, not important to the formation, although a long throw helps.
Defenders:
Not very surprising with three at the back: pace is important. The work rates are important as well. I like a mix of H/H, M/M, H/M in this formation. The high attacking defenders push up a little bit, so when you are tracking back with your midfielders, the defenders are close to help them out. Of course lob trough balls can be annoying with high attacking defenders, but as long as you position them yourself, you should be fine. M/M is good for the guy in the middle; he should be there to stop any attackers that have gone through. A big strong guy with a bit of pace will do the job.
Examples:
H/H: Benatia, Mangala
H/M: Ramos, Hummels, Luiz, (SIF) Naldo, Vertonghen
M/M: Kompany, Boateng, Miranda, Sokratis, Subotic, Varane
I would not use M/H or L/H, because the gap between the midfield and the defenders can get too big. Especially against good dribblers, it might get you in trouble.
Central midfielders
These players should be able to do everything well, the so called box to box players. I have the most success with a combination of H/H midfielders. They will help the defenders out, but should also be able to control the midfield while attacking. So they need to have good passing and good defending. Pace is not that important in this position, nor is the shooting. Your front three will score most of the goals, your cm's will rarely get in a good position to score. Most of the midfielders are good enough to finish a good opportunity, but most of the time you will have a better alternative close by. H/M or M/M midfielders might work well to, but they do need to have good defending. Of course you can't go wrong with Pogba or Touré.
Examples of H/H central midfielders: Lahm, Schweinsteiger, Vidal, Matuidi, Ramsey, Marchisio, Ramires, Strootman, Fer
Wide midfielders
The wide midfielders should be able to play as a LB or RB when needed, but will also push up while attacking. You have several options here. You can make a fullback LWB or RWB en put them on lm or RM with a bit less chemistry. When playing a LB or RB on the midfield, make sure he as some attacking skills as well. He should be able to pass well and a good shot helps as well. The LM and RM do get some opportunities once in a while. If you chose to play a LM or RM, you need to have workhorses. I have IF Kuyt and like in real life, he does the job on both sides. During the World Cup, he even played right back for Holland and did quite well. Kuyt might not be the best option, but I like him and he does well.
H/H and H/M work well on the sides, as does M/M.
Examples:
LB's as LM: Alaba, Baines, Marcelo.
RB's as RM: TOTY Lahm, Maicon, Carvajal, Dani Alves
LM: SIF Perisic, Asamoah, Turan, Nagatomo, Stocker
RM: Müller, IF Kuyt, Sissoko, Jonathan, IF Milner, Isla
CAM
The key position of your team. This guy needs to have good dribbling, really good passing and good shooting. The CAM will get the ball a lot and has to put your strikers in position. But he will get some good shooting opportunities as well, so his finishing should be good. For me SIF Sneijder has been brilliant in this position, he can do everything. He is better for me than TOTY Kroos, but I never played him in this formation. I'm sure he will be good as well. If you can afford him, Messi is great as well in this spot. I think he is better as a CAM or CF than as a striker, because he has a bit more space. H/M or M/M, M/L seems to working the best here, but I can imagine Di Maria (H/H) doing very good in this formation as well. H/L might be a problem, as the CAM might play as a striker too much. On the other hand, SIF Silva might be good here as well.
Examples:
SIF Sneijder, Messi, TOTY Kroos, Sif Rakitic, SIF Cazorla, Fabregas, Mertens, De Bruyne, Oscar, IF Benat, IF Totti.
Strikers
These players will score most of the goals. Several types of strikers will work, but good passing is important. Your front three will interact a lot and to be successful, you need to be unpredictable. Quick short passing and a skill of dribble move after a few passes is very effective. So the passing must be good, as well as the dribbling and the finishing. You can play several LW's or RW's as striker on 7 chem. As you might know, make him a LF or RF and he can be on 7 chem, which is good enough. I play TOTY Robben as striker, and a part of me wants to write a love song about this guy. He is phenomenal, in every aspect. If I would describe how good he is I would fail him, so I won't even try. But he is good, very very good. I partnered him with Robin van Persie, who might be one of the best options for this formation. He has good passing, a lethal shot and his dribbling is quite good as well. Many combinations are possible, as long as they are able to pass the ball to each other. I would suggest a striker with at least 70 passing, but yet again, the higher the better.
Examples
Aguero, Ibrahimovic, Robin van Persie, Tevez, Ronaldo, Reus, Neymar, SIF Griezmann, Giovinco, Jovetic, Benzema
Playstyle
Be patient as pass a lot. Eventually your CAM will be in a good position to either shoot or pass the ball to your striker. You will get a lot of opportunities and if you are a good finisher, you will score a lot of goals. To avoid counter attacks: don't lose the ball with your CM's play safe with them. The same goes for your LM and RM, these players should not lose the ball. And if you do, run back with them or select a defender/ midfielder to track back. If you play carefully, you should be good. The midfield is very crowded and with your H/H, H/M defenders, your opponent will have difficulty finding space. Make your front three the attacking triangle, the other guys are there to support them or you can pass the ball back to them. If someone is using high pressure, try to find the LM and RM. The usually have some space and with the gaps opening when someone is pressing a lot, it should be easy to find your front three.
Instructions (will update):
Defenders:
Midfielders:
LM
RM
CAM
Strikers
Custom Tactics:
I don't have one custom tactic, but I usually put passing higher.
So that's it. 3-4-1-2 is a lovely formation for players that like to pass the ball, can defend and like to attack. I think no other formation will give you that much attacking opportunities. Once in a while you will concede a nasty counter, but I also have to deal with that when playing my other favourite formations 433-5 and 4321. Hope you enjoy it, let me know if you have any questions.
My current team: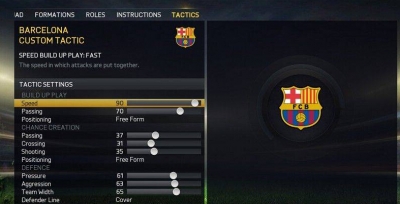 06
Jan
Full FIFA 15 Guide Custom Tactics
Let me start by saying, I've lurked here for years and always wanted to write this fifa guide ok, but never got around to it. Although I'm a noob in forum terms I'm a very experienced D1 fifa player online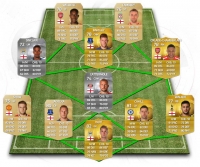 28
Dec
I would like constructive fifa 15 tips on how to improve my game please
I would like constructive fifa 15 tips on how to improve my game please. I can have anything up to 60% possession in games but struggle to connect through balls or to get past fifa players in the final 3rd where as other players seem to get chances through on goal quite regularly.